David Clive Press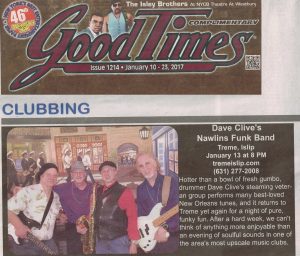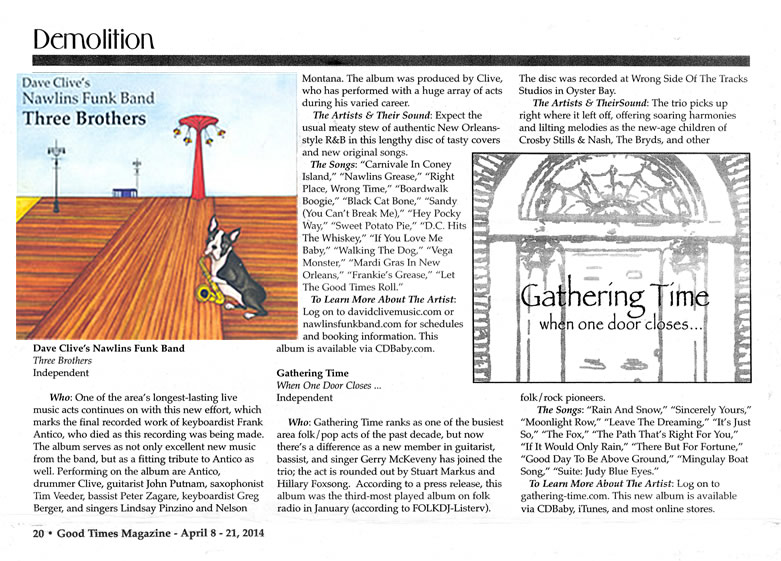 April 2, 2014: 2014, Issue 14
Dave Clive's Nawlins Funk Band
Coney meets Carnival: Funk group celebrates Coney Island with a Big Easy sound
By Will Bredderman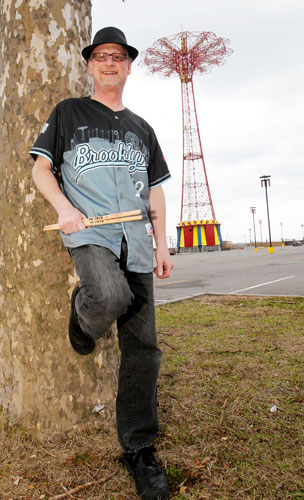 Photo by Steve Solomonson
Funked in Coney Island: Dave Clive, of Dave Clive's Nawlins Funk Band, may play music from New Orleans, but his heart and home is in Brooklyn.
This band is bringing the sounds of the Big Easy to the Big Apple and taking listeners from the Boardwalk to Bourbon Street.Dave Clive's Nawlins Funk Band draws its name from the Crescent City, and is based in Sheepshead Bay — but its new album offers several tuneful tributes to Coney Island.
"Down in Brooklyn close to Sheepshead Bay, we do the Boardwalk boogie. There's a place the whole world comes out to play, do the Boardwalk boogie, do the Boardwalk boogie, the Coney Island way," are the lyrics to the fourth track. "Take a Cyclone ride, eat some Nathan's Fries, on the Wonder Wheel you can touch the sky."
Drummer and bandleader Dave Clive grew up in Manhattan, but his father's family came from Brighton Beach, and the musician recalls visiting the Playground of the World with his dad many times in his youth.
"I always loved going to Coney Island," said Clive. "My wife and I are still constantly there now."
The son of a classical pianist, Clive studied jazz in high school and college, but kept an abiding affection for dirtier, dancier styles of music.
"Even as a kid, if you asked me what kind of music I liked, I liked funk," said Clive.
Twenty-five years ago, Clive took a trip to New Orleans for the city's Jazz and Heritage Festival. It turned out to be a fateful journey.
"It was almost a religious experience. When we got back, I said 'I have to start a funk band; a New Orleans style funk band,' " Clive said.
So the stickman put an ad in the Village Voice, and assembled an ensemble with guitar, bass, sax, and piano to bring a bayou flavor to Brooklyn — which borough residents can see sample live when the band plays the Schnitzel Haus and 773 Lounge on April 5 and 6.
Clive believes that New Orleans and New York are a natural match, noting that famous Cajun-Creole musicians like Dr. John and Allen Toussaint have homes in both cities. He also pointed out that at the height of the jazz zge, New Orleans's musician-haven Algiers was known as "the Brooklyn of the South," since so many artists lived there and worked in the French Quarter — just as New York City musicians played gigs in the city but slept in the Borough of Kings.
The band's new album, "Three Brothers," also bridges the two cities, via a musical journey beginning in the People's Playground with opening track "Carnivale in Coney Island" and winding up in Preservation Hall with the classic New Orleans blues number "Let the Good Times Roll."
"It's a voyage into Coney Island that ends up in the French Quarter," said Clive.
Dave Clive's Nawlin's Funk Band at the Schnitzel Haus [7319 Fifth Ave. between 73rd and 74th streets in Bay Ridge, (718) 836–5600, http://www.schnitzelhausny.com/]. April 5 at 10 pm. Free; 773 Lounge [773 Coney Island Ave. between Cortelyou and Dorchester roads in Flatbush, (718) 462–9746, http://www.773lounge.com/]. April 6 at 12 pm. Free.
Reach reporter Will Bredderman at wbredderman@cnglocal.com or by calling (718) 260-4507. Follow him at twitter.com/WillBredderman.
©2014 Community Newspaper Group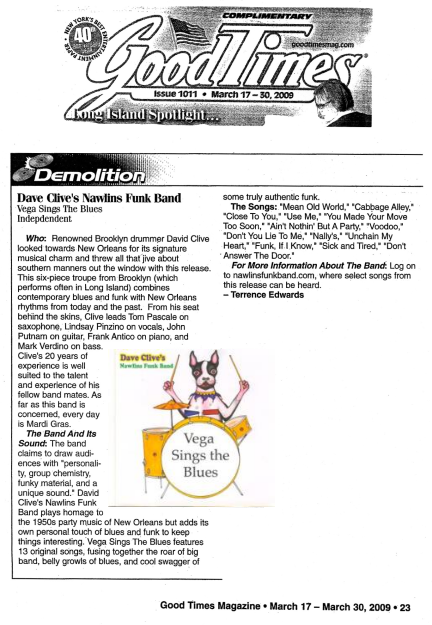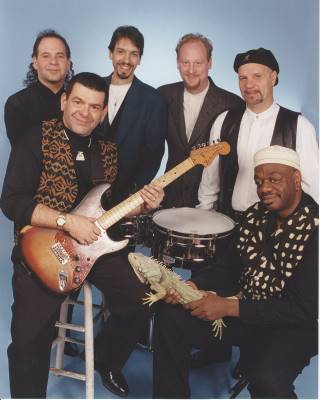 "It's not every independent New York-based Latin jazz outfit that can get famous guys like saxophonist Paquito D'Rivera and flutist Antonio Hart to jam with them, so it makes sense to begin discussion of this very appealing, brilliantly played project with their contributions. D'Rivera's honking contributions to the rolling, percussive "Voyager" are not specifically Latin in nature, but offer a powerful straight-ahead melody in conjunction with Hart's soulful flute. Testament to the strength of the six-piece outfit is the fact that the real stars on that track are pianist Ray Naccari and bassist Kevin Jacoby, who keeps the tune moving. D'Rivera also appears on the tribal jam "Ash'e," blowing funky, then honking heavily over Duke Lee's irrepressible jungle percussion. Slide Hampton dresses up the romantic "Black Orchid" with a subtle trombone solo halfway through, but again the native Iguazuans like Naccari and vibist David Clive carry the load; a later improvisational duet section between Hampton and Naccari is amazing. There are also many cuts without any all-star help, most notably the brassy, Santana-like blues rocker "Cold Shot" featuring vocalist Rick Howard; it's like a Latin Tower of Power tune. There's a little too much tendency for these instrumentalists to put their bravura in the service of mediocre vocals – meaning that "It Ain't Nothing But a Thing" features a powerful instrumental track but a throwaway bluesy vocal line. Ditto "The Girl Who Loved to Dance" which features a high and low vocal over a colorful flamenco harmony. Whatever flaws this disc has are easily solved if Iguazu realizes its amazing strengths lie in instrumental music and not in token vocals which aren't strong enough to gain airplay anyway. Cool, exotic cover art is also a plus."
Jonathan Widran

"Composed of six of the areas best jazz musicians, Rick Howard on guitars and vocals, David Clive on drums, pianist Ray Naccari, bassist Phil Palombi, Duke Lee on percussion, and newest lizard, Tom Pascal on saxophone, Iguazu is a Latin styled jazz outfit, with strong roots in rock and funk. The set consisted of all original compositions from their Logarto Records CD called Iguazu. Iguazu are hard to describe. They are jazzy and they are rock. They play tight arrangements and are masters at improvisation. They will make you listen attentively, or dance spiritedly. This is a band who have already accomplished a lot, and are equipped to meet any challenge. It was a pleasure to see them this early in a career that should know no boundaries, and I look foward to watching their progress."
Joe Grandwilliams, Good Times

"With a collective resume that includes the likes of Bob Marley, Keith Emerson, Benny Golson, Maynard Ferguson, Reggie Workman and Ahmad Jamal, to name but a few, the members of Iguazu are certainly seasoned vets. Consisting of guitarist Rick Howard, drummer David Clive, keyboardist Ray Naccari, bassist Phil Palombi, and percussionist Chacho Ramirez, lguazu bridge the gap between guitar-oriented jazz and latin fusion.
Ranging from the evocative "Iguana Man," with its "Europa" like feel, to the jazz-ballad "Thanks Kenny," there's an entire curriculum of latin-styled jazz laid out here. Of course, if you don't care about learning anything, just listen to some remarkable players work some magic. These guys have a great chemistry together, and if the Nobel Prize could be awarded for production and engineering, this recording deserves it."
Joe Grandwilliams, Good Times

"From the halls and haunts of such eclectic places as; the C-Note Cafe, the Metronome, the Sage Cafe, lzzys on 10th.. and the Club Bene Dinner Theater in Jersey where they opened for Acoustic Alchemy comes this contemporary Latin jazz quintet. Iguazu's self titled CD is an hour plus of delicate-smooth-light-soft-jazz, but you don't have to have CD 101 .9 on your radio presets to hear the workmanship within.
"The Bearded Dragon" and "Chasing The Bearded Dragon" are beautiful with spiritual overtones as you are introduced to the soul of the lguana. "Mr. Easy," the only composition on the album written by Ray Naccari (Rick Howard arranged and wrote the rest) would make a great sound bed to a futuristic video game. Carl Fisher on trumpet and valve trombone and Marty Kersich on tenor sax lend a hand. "Samba Mood" is a slower cut, like a pure silver stream slow moving and true. You become entranced as you are merrily dolloped deeper into "The Hedonist," Rick really goes to town here. Some of Rick's prior album mates include Bob Marley, stage mates include Keith Emerson. The point man Ray shines on "When Bongo Sleeps." "lguana Man" features David Clive on Gretsch Drums is amazing. He conveys many textures and emotions, effortlessly shifting the mood or destination of the beat. "lguana Man" really highlights Chacho's percussional pyrotechnics as he really heats it up toward the end. "Thanks Kenny" is the most sparkling gem in the jewel case. The delicate separation and balance on this track is superior. "Less is More," "Amazonia." and "Lisa" end this unique Latin jazz homage."
V.J. Calone, The Lie

"The smiling cartoon iguana on the cover of Iguazu's self-titled debut should be replaced by a chameleon because, even though it's based in the Latin and Brazilian traditions, this tight five-piece ensemble changes tempos and moods throughout the disc–often at the drop of a hat within a single tune…Perhaps it's a little self-indulgent for a contemporary jazz band to have four tunes clocking in at more than seven minutes, but composer/guitarist Rick Howard and his cohorts keep every second entertaining…"
Jonathan Wilson, Jazziz